Santa's Little Helpers: 'Tis the Season to Not Be S-elf-ish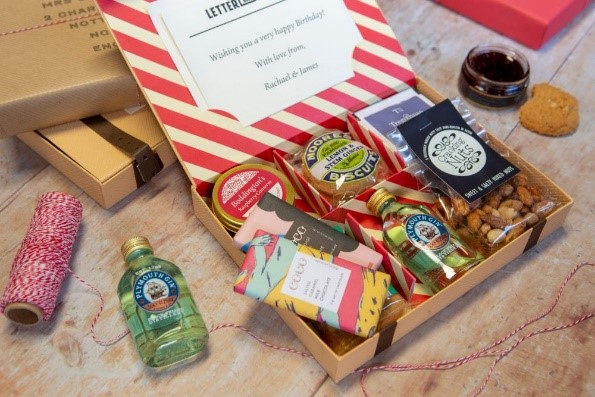 We might not admit it, but everyone's favourite part of Christmas is getting presents. We might tell others – and ourselves – that spending time with our family is top of our lists to Santa, but deep down we all know that you can't beat the excitement of tearing open a present like an excited toddler.
That excitement isn't just contained to our homes though… when an unexpected gift arrives at the office, it can be a real talking point, getting staff chatting about your brand when they might otherwise not be.
So, consider us Santa's little helpers – we write your press releases, co-ordinate your social media and do your Christmas shopping, too! We've organised gifts for several of our clients over the years – here are some of our favourites to offer you some inspiration this festive season…
Something sweet…
Nothing says Christmas more than gorging yourself on too many sweet treats. That's why we created this box of iconic Scottish fare that could easily be mailed or hand-delivered. Perfect for reminding clients of the incredible confectionary of their home – or introducing those further afield to the delicacies of your home.
Online shopping
In the world of communications, gifting is for life, not just for Christmas. We were tasked to create a gift for invitees to a business breakfast with Vint Cerf, father of the internet. By combining IFB's branding and messaging with a quirky selection box, we were able to make the event even more memorable.
Postal Surprises
Everyone loves receiving a hamper of delicious goodies. But if your clients are spread out across the country, it might not be practical to get out there to hand deliver them. That's why last year we sourced these letterbox hampers for one of our clients – perfectly postable, packed full of festive cheer and sure to put a smile on every recipients' face when they drop through the letterbox!
Gifts that travel
When you know delegates at an event are going to be travelling you need to be considerate with your gifting. Something small – and easy to get through airport security – is a must! These boxes of shortbread for accountants Hall Morrice were simply branded, but got the message across that they're a long-standing Scottish firm with a human touch.
Head in the clouds
It's easy to ignore an email invitation and even letters can get lost in the post. So, when we knew we had to grab invitees' attention to an event about cloud computing, we knew we had to think outside the (biscuit) box. These cloud cookies were on brand and proved a real talking point for all those who attended the event.
So whenever you're looking for your next corporate gift, and are looking for something a little bit different to ensure your company is remembered, be sure to give us a call.