Bunch of Awards For Big, Bold and Totally Bananas Campaign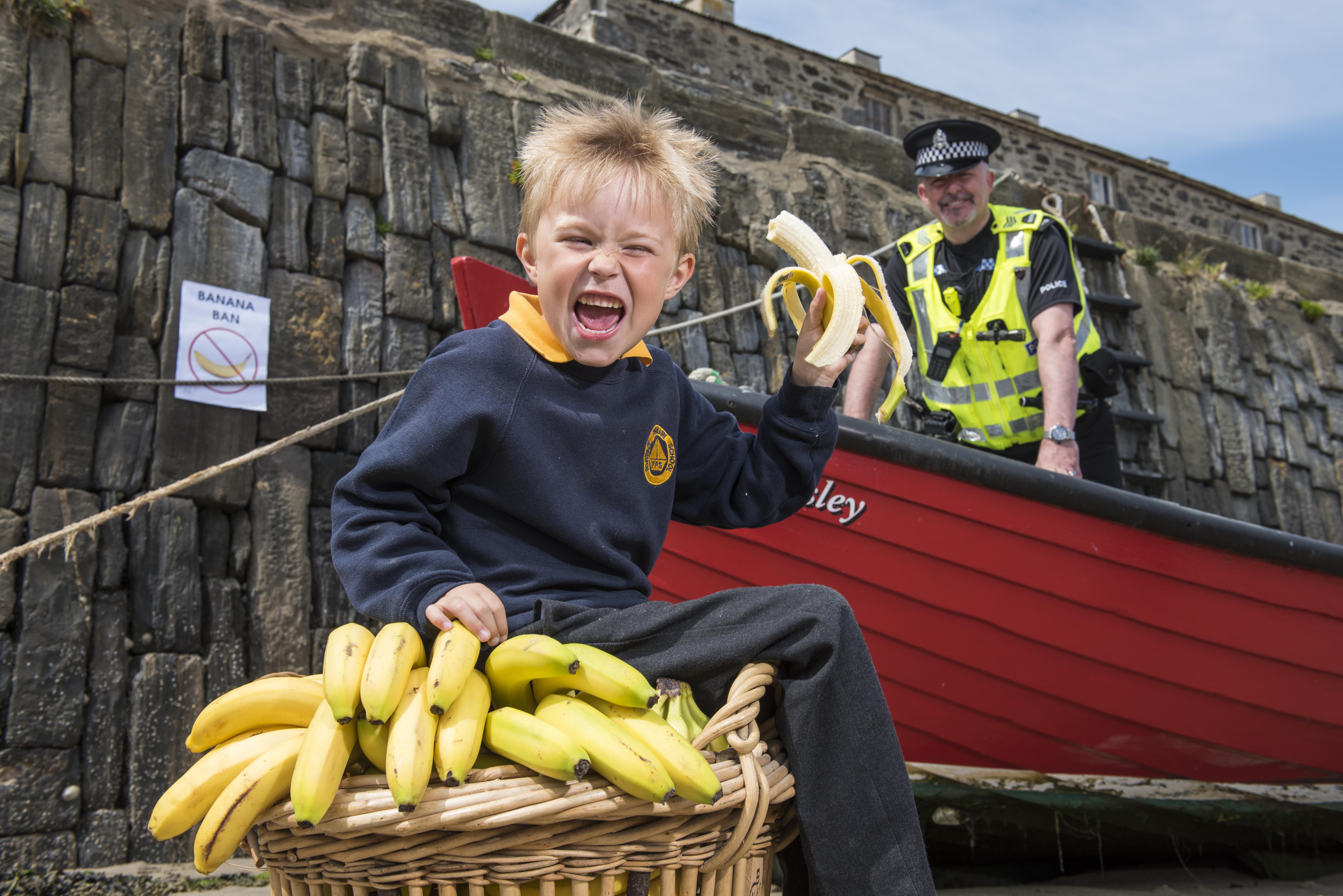 The team at Tricker PR, one of Scotland's leading creative PR agencies, is going bananas today (Friday 7 October) after picking up a hat trick of awards for a campaign involving the banning of bananas in a coastal town.
The agency's Banana Ban campaign for the Scottish Traditional Boat Festival won the PR Strategy/Stunt award at the Scottish Creative Awards last night and the PR Strategy of the Year at the Scottish Event Awards on Thursday both in Glasgow – hard on the heels of scooping the Best Campaign award for the second time at the Northern Star Business Awards.
Known for high-profile PR campaigns which grab attention and deliver on client objectives, Tricker PR banned the banana from the whole town of Portsoy in the lead up to the 2015 event. Bananas were historically thought to be bad luck on board ships by superstitious seafarers, so in order to bring good luck to the Festival bananas became a forbidden fruit. The Portsoy Prohibition was put in place and Tricker PR even got Police Scotland behind the ban with the local bobby appearing in the photos.
"It was bold, it was big and it was totally bananas," says Beverley Tricker, managing director of Tricker PR. "Banning this tropical fruit from the north east town of Portsoy boosted tickets sales for the Scottish Traditional Boat Festival and the Tricker team went bananas delivering more than 60 pieces of print coverage including a front page in The Herald and pieces in The Daily Mail, Scotsman, Scottish Sun and Sunday Herald. Broadcast coverage included BBC Scotland, Radio 4 and TV bulletins. There were at least 435k digital views of the story and at least 1.75k shares. Online tickets sales increased during the campaign and event sponsor Aberdeen Asset Management was credited in 79% of all coverage too."
But this was not Tricker PR's first foray into highly successful – and award winning - stunts for the Scottish Traditional Boat Festival. Giant knitting needles, illicit whistling and a flotilla of paper boats have all gained front page news for this top notch Scottish event thanks to earlier Tricker PR campaigns.
Tricker PR has previously won Scottish Event and Scottish Creative Awards for campaigns for Scottish events which include 'Deer oh Deer – Venison Ice Cream' for the Royal Deeside Venison Festival; The Choir of Davids for VisitAberdeen which aimed to create a world record for the most number of men named David singing Once In Royal David's City to highlight the city's festive offering; and the Spirit of Speyside Save our Dram campaign which also won the 2013 Northern Star award in the Best Campaign category.